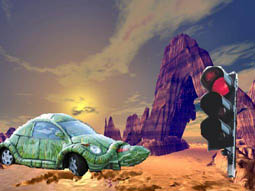 Golden Rod left the basement and returned to the real world, thoroughly confused. As he drove home, he ran five red lights. His mirth rose with each light. By the end of the voyage he was giggling like a ninny at his newfound freedom.
Years went by and Golden Rod continued drive towards Aftermath. He ignored stop signs, blew through red lights, and opened his moon roof despite danger of falling rocks.
"Sweet Merciful Ass!" cried out Bung-Fu the Fool as he clawed at the dashboard. "You're gonna get us both killed!"
"Nonsense! I am self-emancipated from these mundane traffic laws," cackled Golden Rod. "I am a harbinger of Aftermath!"
"Do you always drive like this?" said Bung-Fu as he buckled his seat belt.
Golden Rod nodded. "Always."
Meanwhile, the monk Nopants was wheeling his gong across the street towards his basement. He patiently waited for the light to turn red, then pushed the ponderous percussive instrument upon the pavement.
             The collision made the exact sound of enlightenment.