1
« on: September 29, 2012, 01:14:36 pm »
Hello, PD...I'm Sister Gothique. I've been gone a while, because, as you should damn well know, I'm the Patron Saint of Poor Decision Making™. Well, I'm back in The Tucson...and you could say it's having an effect on me.
It's 4:30am (fuck off with the post time...I'm tired and slow)...and I am awake. I am awake because of a dream. It wasn't anything detailed or grand, but there was one thing that stood out:
Age of Wonders cereal! Dino-scrapings in every bite! "Imma poopin' ancient history!"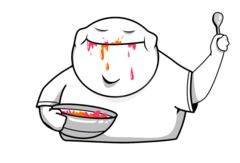 As an additive, I was also riding a pretty badass rollercoaster and cozying up to David Lee Roth...Why? Because TGRR, that's fucking why!
I can not attribute this to The Tucson alone...it's just a place, it's doesn't know any better (leave it alone!). It's the people that make this place the magnificent show of horrormirth it is; the pigeon-punchers, tape worm fetishists, the TGRR (the the?...meh)....but this one has a particular familiarity. TGRR...it's all your fault. You're a bad, horrible man.
Damn, did I miss this place.