Sick of the Flying Spaghetti Monster being the only Neophillic Irreligion available for kids? Here's a quick jake for the children.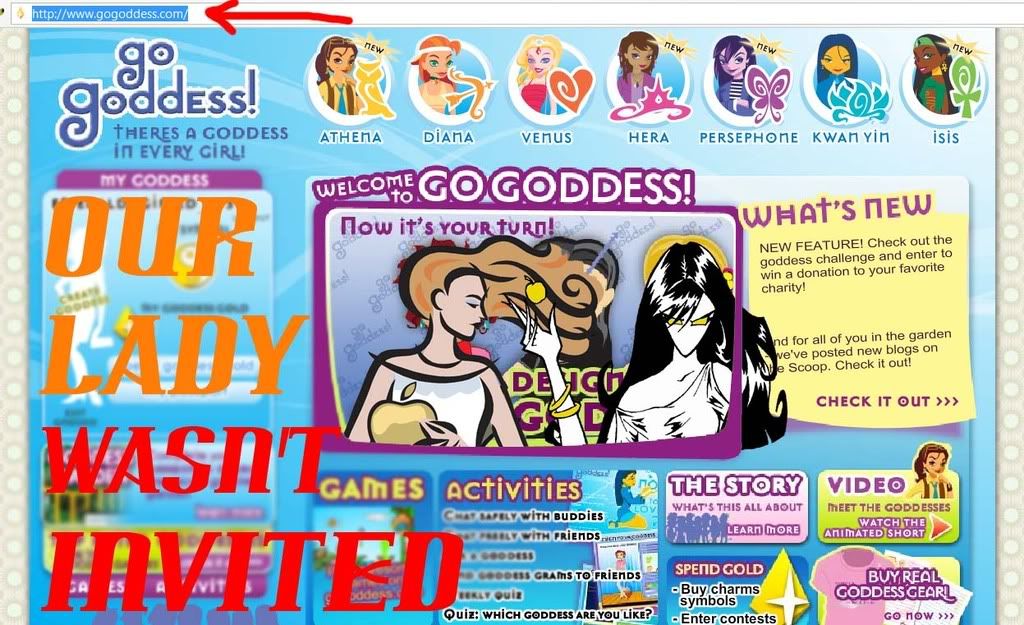 hxxp://www.gogoddess.com/
Some background on the site, from the PARENTS section:
Why go goddess?
Rather than by age, tweens are best defined by their state of mind as they enter a transition period between childhood and adolescence. go goddess! is a brand focusing exclusively on the development of self-esteem for tween girls by encouraging self-discovery, self-expression, and self-awareness. The purpose of the go goddess! concept is to encourage tweens to discover their talents and interests, and to emphasize the importance of embracing their inner beauty and unique attitudes as they navigate the tough world of being a tween.
Why focus on tweens?
Experts suggest that it is during the tween years that girls begin to pay attention to their "inner voice." They begin to compare themselves to their peers, which can result in self-doubt. "Tween-agers" also begin to question their individual idea of what is right and what is wrong, rather than solely relying on their parents' opinions. The intent of the go goddess! concept is to provide girls with a healthy outlet to explore their unique and budding interests during this impressionable period.
consider the above when writing letters.
If you sign up, play nice on the site, there are kids there. But go ahead and try every trick in the book to get them to take us seriously.
(credit to Lysergic for finding this joint)
PS: I DON'T EVEN HAVE A DAUGHTER!